Constrictor (Hero Datafile)
Edit
AffiliationsEdit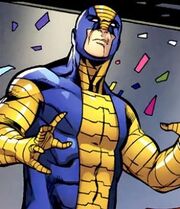 Solo D6, Buddy D8, Team D10
DistinctionsEdit
Guilt Ridden, SHIELD Veteran, Android Arm Replacements.
Power Sets:Edit
Vibranium CoilsEdit
Stretching D8, Electric Charge D10, Superhuman Durability D10

SFX: Grapple. Add d6 and step up your effect die +1 when inflicting a complication on a target.
SFX: Vibranium Absorption. On a successful reaction against a sonic-based attack action, convert opponent's effect die into an Electric Charge stunt or step up Electric Charge by +1 for your next action.  On a failed reaction, spend 1PP to use this SFX.
Limit: Feedback. Gain 1PP and either step up stress from electric sources or shutdown Vibranium Coils.
SpecailtiesEdit
Combat Expert D8, Covert Expert D8, Crime Expert D8, Vehicle Expert D8
MilestonesEdit
Repentant VillainEdit
1XP: Every time you save an innocent, or choose to save your own hide instead.
3XP: Every time you take stress to save a teammate or civilian.
10XP: Whenever you are stressed out while saving a teammate or civilian, or when you bail on your teammates and they become stressed out because of it.