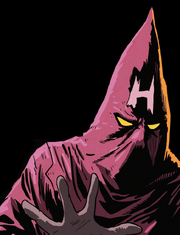 (by Losthorizon )

Affiliations
Solo d6, Buddy d4, Team d8

Power Sets
POWER OF HATE
Body Armor d8, Enhanced Strength d8, Hate Ray Gun d6,
SFX: Induce Hate. On a successful Hate Ray Gun attack, instead of inducing physical stress, spend 1 die from the Doom Pool and step up the effect die +1 as Mental Stress.
Limit: Gear. Shutdown one power from POWER OF HATE to step up the lowest die in the doom pool or add a d6 doom die. Spend a doom die to recover that power.
Specialties

Combat Expert d8 Psych Master d10 Menace Expert d8