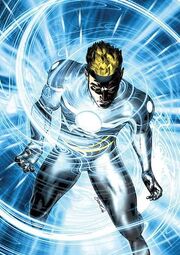 Downloadable Datafile can be found
here
.
Affiliations
Edit
Solo: D6
Buddy: D8
Team: D10
Distinctions
Edit
Just Cry... HAVOK!
Reluctant Hero
Something to Prove
Power Sets
Edit
AMBIENT ENERGY CONVERSION

Plasma Emanation: D12
Energy Resistance: D8

SFX: Area Attack. Target multiple opponents. For every additional target, add D6 and keep +1 effect die.
SFX: Heat/Radiation Immunity. Spend 1 PP to ignore stress, trauma, or complications from heat- or radiation-based attacks. Recover PLASMA EMANATION if it had previously been shutdown.
SFX: Unfettered Blast. Double PLASMA EMANATION die for an action and shutdown PLASMA EMANATION. If the action fails, step up emotional stress by +1. Recover power during a Transition Scene.
SFX: Versatile. Replace PLASMA EMANATION die with 2D10 or 3D8 on your next roll.
Limit: Get Away, Now! Both 1 and 2 on your dice count as opportunities when using AMBIENT ENERGY CONVERSION, but only 1s are excluded from being used for totals or effect dice.
Limit: Mutant. Earn 1 PP when affected by mutant-specific Milestones and tech.
Limit: Out of Control. Step up physical stress of all allies in your scene when using both Area Attack and Unfettered Blast in the same action.
Specialities
Edit
Combat Expert
Cosmic Expert
Science Expert
Vehicle Expert
Milestones
Edit
FEAR HIM, FEAR FOR HIM

1 XP: when you use your PLASMA EMANATION specifically to protect an ally or innocent from harm.
3 XP: when you take emotional Trauma in order to save an ally or innocent.
10 XP: when you are the last hero standing and must sacrifice yourself to protect your fallen allies.

A LEADER AND A REBEL

1 XP: when you convince someone to follow your lead.
3 XP: when you convince your team to tackle a seemingly impossible challenge.
10 XP: when you lead your team to a triumphant victory over overwhelming odds, or abandon them, dooming them to failure.