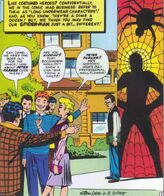 Affiliations
Edit
Solo D8, Buddy D6, Team D4
Distinctions
Edit
Flash Thompson's Punching Bag, Hard Worker, Shy Boy
Specialities :
Edit
Covert Rookie D6, Media Rookie D6, Science Expert D8, Tech Rookie D6
Milestones
Edit
STUDY & LOVE
1 XP When you muster the courage to ask out a girl.
3 XP When you take emotional stress in front of girls or by being turned down by a girl.
10 XP When you choose to not open your heart and dive into studies, or you neglect your study in favor of a better social life.
Event Milestone
Edit
WITH GREAT POWER COMES GREAT RESPONSIBILITY
1 XP When someone tells you, that with great power comes great responsibility.
3 XP When drama strikes your live, because you stood up for the right thing.
10 XP When you understand that you have great power AND great responsibility by making this your new motto/Distinction, and use this power for good, or when you reject all responsibility and take a darker path with another motto/Distinction.
Unlockables
Edit
[15 XP (Free for Peter Parker)] Spiderbite.
SPIDER-POWERS
Edit
Enhanced Senses D8, Enhanced Stamina D8, Superhuman Reflexes D10, Superhuman Strength D10, Wall-Crawling D6
SFX: Spider-Sense. Spend 1 PP to add Enhanced Senses (or step up if already in your pool) and reroll all dice on a reaction.
SFX: Second Wind. Before you make an action including a Spider-Powers power, you may move your physical stress die to the doom pool and step up the Spider-Powers power for this action.
Limit: Exhausted. Shutdown any Spider-Powers power to gain 1 PP. Activate an opportunity to recover or during a Transition Scene.
Specialties
Edit
Gain Acrobatics Rookie D6

[15 XP (10 XP for Peter Parker)] Web-Slinger.
WEB SHOOTERS
Edit
Swingline D8
SFX: Grapple. When inflicting a web-related complication on a target, add a D6 and step up your effect die.
SFX: Web Constructs. When creating web-related assets, add a D6 and step up your effect die.
Limit: Out of Web Fluid. Shutdown Web Shooters power to gain 1 PP. Recover by activating an opportunity or during a transition scene.
Specialties
Edit
Step up Tech Rookie to Tech Expert D8