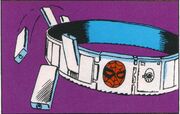 SPIDER-UTILITIES
Tools D6
SFX: Belt Camera. Spend 1 PP to create a media-related resource at any Time during an action scene. When creating media-related assets or resources, add a D6.
SFX: Spider-Signal. Spend 1 PP to create a D8 light-based asset.
Limit: Gear. Shutdown a Spider-Utilities power to gain 1 PP. Recover by activating an opportunity or during a transition scene.

UNLOCKABLES
[10 XP] Spider-Tracer Upgrade.Add all powers, SFX and Limits from Spider-Tracer to this power Set.
[10 XP] Ultimate Upgrade. Add Comm, Sonic Emitter and Wrist Morpher D6 to Spider-Utilities.
[15 XP] Spider-Arms Upgrade. Add all previously unlocked powers, SFX and Limits from Steel-Spider's Arms to this power Set. Add all Unlockables from Steel-Spider's Arms to Spider-Utilities Unlockables, or include all previously unlocked powers, SFX and Limits and Unlockables from Spider-Utilities in Steel-Spider's Arms
[15 XP] Web Shooter Upgrade.Add all previously unlocked powers, SFX and Limits from Web Shooters to this power Set. Add all Unlockables from Web Shooters to Spider-Utilities Unlockables, or include all previously unlocked powers, SFX and Limits and Unlockables from Spider-Utilities in Web Shooters