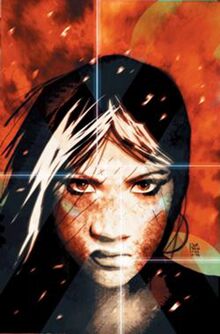 TEMPUS (Eva Bell) Edit
Affilations: Edit
SOLO d10
BUDDY d6
TEAM d8
Destinctions: Edit
HEAD OVER HEELS
TEEN PRODIGY
THIS ISN'T MY TIMELINE
Power Sets: Edit
TIME BUBBLES Edit
TELEPORT d6
TIME MASTERY d10
SFX: Almost Omega-Level. Double or step up a TIME BUBBLES power for one action. If that action fails, add a die to the doom pool equal to the normal rating of that power die.
SFX: Area Attack. Against multiple targets add d6 and keep an extra die for each additional target.
SFX: Reactive Power. Spend 1PP to add TELEPORT to another character's dicepool before rolling. If that character takes physical stress, take d6 mental stress.
SFX: Temporal Stasis. When using TIME MASTERY to create a slowed complication, add d6 to your dicepool and step up the effect die.
Limit: Only Make It Worse. If your dicepool includes TIME MASTERY, both 1s and 2s create opportunities, but only 1s are excluded from being used as totals or effect die.
Limit: Time Out. You can only use your TELEPORT power to travel to places, that you would be able to reach physically given enough time.
Limit: Uncontrollable. Change your TIME MASTERY power into a complication to gain 1PP. Activate an opportunity or remove the complication to regain that power.
Limit: Mutant. Earn 1PP when affected by mutant-specific Milestones or tech.
Specialties: Edit
COSMIC EXPERT d8
COVERT EXPERT d8
Milestones: Edit
SECRET LIFE OF EVA BELL Edit
1XP: when you wonder if an action that you are about to take will cause damage to the timeline.
3XP: when you take a reckless action regardless of the integrity of the timestream.
10XP: when you find a way back to your own time, and you either decide to return home or forsake your own time to live your days in your new home.
X PHILOSOPHY DISCIPLE Edit
1XP: when you discuss non-violent means of opposing oppression.
3XP: when you create an asset that helps a mutant to overcome human oppression.
10XP: when you either pledge your life to non-violence as a means of mutant survival, or publicy disavow Professor X's teachings and seek another way to serve humankind.